Hi, readers,
It's Sisi again. The first time I heard of UNOS, it was on the steamy medical drama "Grey's Anatomy." I don't even remember if they explained what UNOS stood for when they first mentioned it (it's the United Network for Organ Sharing), but it was clear from context clues that the extremely beautiful doctors in "Grey's" needed UNOS to greenlight their patients' organ transplants. Younger me remembers a lot of doctors yelling, "Call UNOS!" and "Well, call them again!" But don't hold me accountable for those lines showing up in the show. They're just ingrained in my memory.
From that moment on, I just assumed everyone knew about UNOS, the nonprofit organization that has overseen the nation's organ donation system on behalf of the federal government for nearly four decades.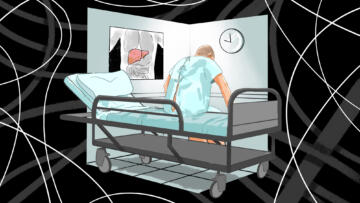 Organ Failure
Poorer States Suffer Under New Organ Donation Rules, As Livers Go to Waste
Life-saving liver transplants have plummeted in some Southern and Midwestern states with higher death rates from liver disease, while New York and California have made big gains
Turns out, I was wrong. Because this week, when Markup reporter Malena Carollo and data journalist Ben Tanen published their yearlong investigation, coreported with The Washington Post, into how, under new rules approved by UNOS for organ donations, poorer states are suffering, a lot of people—including some Markup reporters—learned about the organization for the first time. 
The investigation's roots go back to when Malena was trying to find a story about algorithms and their impact on people that anyone could appreciate on a visceral level. So when she found out that organs for life-saving transplants were allocated using algorithms, she started digging in. Then she started asking UNOS for an interview—one she wouldn't get.
But before I get too far into that, I want to first explain how organs travel within the U.S. and what Malena and Ben found in their investigation into this system. To help me do that, I'm also pulling in Ryan Tate (hi again!), one of the main editors on this piece. The rest of this newsletter is from both of us.
Because there aren't enough organs available for everyone who needs a life-saving transplant, there's a whole network of organizations dedicated to making these transplants work. Hospitals do the transplants, and nonprofits work to see if families are willing to donate the organs of their dying loved ones. UNOS has the federal contract to oversee the whole thing, and it's been doing so for nearly 40 years. 
The way transplants are allocated varies based on the organ in question. Livers, which can last only about 12 hours outside the human body, are first offered to the neediest recipients in an area around the donor and are then offered to recipients farther out and eventually across the country. The way these sharing areas are defined has been a matter of longtime debate and discussion, and in 2012, UNOS's liver committee began trying to figure out how to fix the system, which at that time confined initial sharing of livers to "donation service areas" that critics found arbitrary. For example, livers collected in Newark, N.J., just across the Hudson River from New York City, would be offered throughout their home state before New York had a shot at them.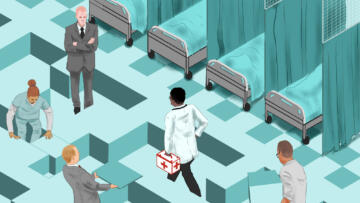 Organ Failure
How a Group of Health Executives Transformed the Liver Transplant System
Hospitals in New York and California engineered a policy shift that let them source livers from hundreds of miles away
To address the controversy around the liver-sharing system, the committee spent five years carefully gathering input from the transplant community and deliberating. It ultimately recommended a hybrid model where livers would be first offered to the neediest patients within 150 miles but kept the "donation service area" boundaries for sharing to other patients. 
Brushing past this carefully constructed plan was a group of transplant professionals from California, New York, and Massachusetts who wanted an even greater initial sharing radius. Those states had longer waiting lists for livers, at least partly because they did a worse job of obtaining livers from their own residents: Organizations responsible for collecting livers in parts of California and New York, including New York City, had for years been called out for poor performance.
To achieve its organ sharing goals, the group of professionals from these states formed a lobbying group, advocated for congressional legislation, and recruited patients to a lawsuit (which some of the professionals then funded). Like-minded decision-makers exerted pressure within UNOS. The group won. In February 2020, UNOS implemented a policy that initially shared livers to recipients up to 575 miles from the donor.
Malena and Ben analyzed data (much of it from public records requests) showing how livers traveled before and after this policy change. What they found was that the new organ sharing rules resulted in New York and California performing their highest number of liver transplants in more than a decade, while a handful of mostly poorer states in the South and Midwest saw sharp declines in transplants. The states with declines had already been struggling; their residents tended to have higher death rates from liver disease and had a hard time getting onto transplant waiting lists in the first place, lacking health insurance and access to health care. 
There's so much depth to Malena and Ben's work, and we highly encourage you to read our two investigations on the impact of this policy change and how the policy change came about in the first place.
It took Malena and Ben a year to do this investigation. It required extensive interviews, time spent reading 600-page court documents, filing requests and fighting for public records, and performing six core data analyses, to say the least. 
During the reporting, Malena ran into something that's typical in investigative reporting: One of the main subjects of the story—UNOS—declined to give her an interview. Over the course of about a year, she contacted UNOS via email, phone, and in person requesting this. Instead, spokespeople said the nonprofit would only answer questions in writing.
Reporters often prefer interviews to written responses because a dialogue allows them to ask follow-up questions, get clarification immediately, and check their understanding. This is especially helpful when the subject is complex. 
Often, companies that decline interviews may not respond to written questions or decline to say what specifically they claim is incorrect about our analyses. UNOS, however, did respond to written questions. It provided detailed answers in writing with statistics from its own analyses, which we incorporated throughout the articles. 
In an email, its interim CEO, Maureen McBride, said, "I'm proud that UNOS distribution policies are today saving the lives of the sickest Americans no matter where they live, and we are now leading more improvement to further increase efficiency, accuracy and transparency across the system."
Malena's experience with the organization is a good representation of two ends of the spectrum that we see a lot in our work as investigative journalists. On the one hand, UNOS's response was unusually lengthy and detailed. On the other hand, declining interviews over 11 months, no matter what we tried, is also unusual—even though, in some ways, we're pretty used to it.
One final note to leave you with. Malena's and Ben's work published on Tuesday. On Wednesday, the federal government announced a big move: It wants to end UNOS's monopoly on the nation's transplant system. Instead of one contractor being in charge of everything, the government wants to break the contract into multiple pieces that different organizations can bid for. 
The proposed changes need to move through Congress, though the federal health agency said it has the power to act independently if needed. UNOS's contract is up for renewal this fall.
Sincerely,
Sisi Wei
Editor-in-Chief
The Markup
and
Ryan Tate
Editor
The Markup
---
P.S. Last week we mistakenly said that the National Institute of Standards and Technology regulates standards and measurements. It develops voluntary standards.