Hi, everyone,
Sisi Wei here (👋🏼). I joined The Markup in late August as editor-in-chief, and this week I did a fireside chat on "Scrutinizing Big Tech"—at a conference for people who work inside the digital advertising and marketing industry. Yep.
I talked about the Meta Pixel with Allison Schiff, managing editor of AdExchanger, and encouraged everyone in the room to self-audit whether their company uses the pixel and see what data it collects.
I didn't know what kind of reception I'd get. Much of our work at The Markup scrutinizes advertising technology, and we don't pull our accountability punches. Since we kicked off our first large-scale, crowdsourced study of Facebook's pixel in January 2022, we've found websites across multiple industries—hospitals, telehealth companies, tax preparation sites, and the U.S. Department of Education—transmitting sensitive information to Facebook through the Meta Pixel, a Facebook tracking tool that helps site operators better target their advertising.
There's no question that the pixel is pervasive, but there's good news. These stories created nearly immediate change. Many companies have either removed the pixel entirely or limited the scope of what data gets collected. So far, our reporters have collectively contacted more than a hundred organizations, telling them what specific information we found their sites sending to Facebook. We've received all kinds of responses from companies, but one always stands out. 
It boils down to: We didn't know.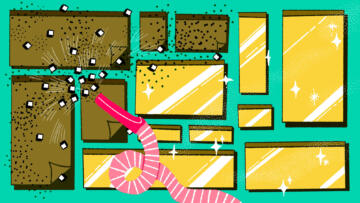 LevelUp
In 2023, Resolve to Fix Your Organization's Meta Pixel Problem
It's time to be proactive about user privacy. Find out if you're sending too much data to Facebook—or if you need to send data at all
Last week, our community and social media manager, Maria Puertas, and our infrastructure engineer, Simon Fondrie-Teitler, wrote a piece together about how to be proactive about user privacy when it comes to the Meta Pixel. Here's one excerpt I want to highlight:
Don't be surprised if many people in your organization don't know about the Meta Pixel. Many of the organizations we found leaking sensitive user information to Facebook seemed to be unaware of what exactly they were doing or the potential ramifications. In certain cases—like that of tax preparation site Ramsey Solutions—companies said they didn't know they were collecting this kind of data from their users and promptly deactivated pixel tracking parameters.

"We did NOT know and were never notified that personal tax information was being collected by Facebook from the Pixel," Ramsey Solutions said in an email to The Markup. "As soon as we found out, we immediately informed TaxSlayer to deactivate the Pixel from Ramsey SmartTax."

Ramsey Solutions wasn't the only organization that removed the pixel after being contacted by our reporters for comment. After we notified hospitals and health systems of the Meta Pixel's presence, 35 of 40 removed it either from portions of their websites or altogether. Major tax companies changed the pixels' settings to capture less data. The U.S. Department of Education changed its pixel's settings to capture less information on FAFSA applicants. 
If there's one thing I've learned in the last decade, it's that unintentional harm is very common (as are unintentional bad consequences). As investigative journalists, our job is to hold people and organizations accountable for their decisions and the harm those decisions have caused, intentional or not. In addition to that, our goal is to have an impact and create real, positive change in the world. The organizations we write about aren't monoliths—they're made up of many people, and lots of people inside companies want to do the right thing (such as protect their users' privacy). So, in addition to spurring regulatory action, another way we create change is by making sure our journalism helps people inside organizations who can make company-wide change very quickly. 
I think about it like this: If you work at an organization that uses the Meta Pixel, how can The Markup's journalism help you to audit your own site for whether it's sending sensitive information to Facebook and then help you fix the problem yourself? Turns out, because of the expertise we've gained investigating this topic, we can share a lot and in great detail. If you want a step-by-step guide, Maria and Simon's article has instructions that anyone can follow, even if you don't know how to code. They also have specific sections written for people who directly manage their website's pixel settings, and who want to make changes.
In the end, my talk went great, and I met a lot of people in marketing and advertising who were working toward a more privacy-first future. Because of course, just as companies aren't monoliths, neither are industries. This should have occurred to me from the start, especially since one of the other speakers, Arielle Garcia, chief privacy officer at the ad agency UM Worldwide, got on stage right before me, cited The Markup's reporting on hospital websites, and ended her talk with "Check your pixels."
So everyone, that's the message I'll leave you with today.
Check your pixels. We'll show you how.
Sincerely,
Sisi Wei
Editor-in-Chief
The Markup
P.S. A special reminder: We want to hear from you. What's stuck with you about Hello World? What would you like to see more of? What you share will help us decide where the newsletter will go next—whether that's answering more of your questions, breaking down our investigations and how they impact you, or talking to experts. Share your thoughts by Saturday, Feb. 18, by replying to this email directly.
Thank you too, to everyone who has already written in. It's been a joy to read what you love about this newsletter. One of your fellow readers, Elizabeth, also shared how the newsletter made her feel. She said that despite the fact that The Markup consistently reveals some terrifying things about the world, "I never finish reading feeling more defeated or depressed." Thank you again, Elizabeth, for sharing, because it means that we're doing what we set out to do. Not only does our journalism exist to hold powerful institutions accountable; it's also here to make sure that people don't feel helpless when it comes to how technology shapes their lives. Please continue to reply with your thoughts!