Sen. Ed Markey (D-MA) is demanding answers from Facebook CEO Mark Zuckerberg after The Markup published evidence last week that Facebook failed in its promise to stop recommending political groups to users during the presidential election and transfer of power. 
Zuckerberg first announced the company had hit pause on suggesting political groups in October during a Senate hearing where Markey, along with other lawmakers, questioned the CEO about Facebook's commitment to clamping down on election misinformation and calls to violence on its platform. Facebook reiterated that it had taken the step in a blog post on Jan. 6 and another post on Jan. 11. 
In a letter sent to the Facebook CEO on Tuesday, Markey called out Facebook for failing to keep that commitment.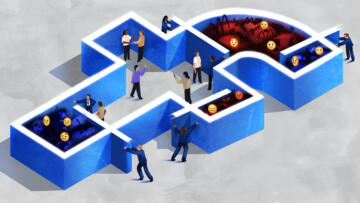 Citizen Browser
Facebook Said It Would Stop Pushing Users to Join Partisan Political Groups. It Didn't
According to Citizen Browser data, the platform especially peppered Trump voters with political group recommendations
"Facebook must explain the apparent discrepancy between its promises to stop recommending political groups and what it has delivered," Markey said in the letter. "Facebook's system of recommending political groups poses grave threats to American democracy and public safety."
The Markup's investigation, using data from more than 1,900 Facebook users in our Citizen Browser project, found that the social network continued to recommend political groups to users throughout December and into January. Citizen Browser, a project that investigates the choices Facebook makes about which content to amplify to its users, allows users to automatically share data about their news feeds with us. Analyzing that data, we found 12 political groups among the top 100 groups recommended to our panelists in December. 
Trump voters in our panel experienced the most political group recommendations, with one-fourth of the top 100 groups recommended related to politics. Panelists who voted for President Joe Biden were recommended 15 political groups out of the top 100, while non-voters received no political group recommendations.
Some of the groups included posts from members calling to storm the Capitol Building on Jan. 6, organizing bus trips to Washington, D.C., and spreading misinformation about election fraud. 
"These findings cast serious doubt on Facebook's compliance with the promises you have publicly made to me and to your users," Markey said in the letter to Zuckerberg. 
He asked the CEO to respond with an explanation of why Facebook failed to stop recommending political groups and details on how the company plans to correct the issues by Feb. 9. 
When approached for comment on Markey's letter, Facebook reiterated its response to our previous story. "We have a clear policy against recommending civic or political groups on our platforms," said Facebook spokesperson Daniel Roberts, "and are investigating why these were recommended in the first place."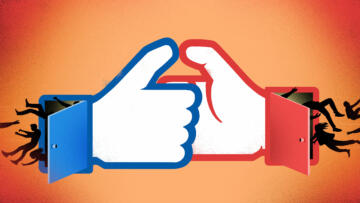 Citizen Browser
In Georgia, Facebook's Changes Brought Back a Partisan News Feed
Ahead of crucial senate runoffs, Facebook reversed its political ad ban, and the impact was visible on users' feeds
Facebook has faced a deluge of criticism over its role in spreading political division. Last week, two members of Congress, Rep. Anna Eshoo, who represents a chunk of Silicon Valley, and Rep. Tom Malinowski of New Jersey sent a letter to Zuckerberg—and similar letters to Twitter CEO Jack Dorsey and Google CEO Sundar Pichai—laying some blame for the Jan. 6 attack on the Capitol on the three companies. In it, the lawmakers cited The Markup's recent investigation finding that Facebook allowed partisan content to elbow out traditional news sources in the run-up to the Georgia special election.  
"The horrific damage to our democracy wrought on January 6th demonstrated how these social media platforms played a role in radicalizing and emboldening terrorists to attack our Capitol," the letter to Zuckerberg said. "These American companies must fundamentally rethink algorithmic systems that are at odds with democracy."
Since Zuckerberg shifted Facebook's focus to groups in 2017, researchers and journalists have found that they've become havens for extremist organizations. Last August, The Guardian reported that QAnon conspiracy groups were rapidly growing on Facebook, and The Wall Street Journal reported last May that Facebook's internal research found 64 percent of new members joined extremist groups through Facebook's recommendations.  
Researchers from the Tech Transparency Project found Facebook groups spreading calls to overthrow the government and promoting calls to action in Washington, D.C.
"Users organize and coordinate violent and anti-democratic efforts on these pages, but Facebook does not just allow these dangerous pages to exist on its platform, it recommends them to users," Markey said in his letter. "Your company's group recommendation system aims to maximize users' time spent on the platform but seems to disregard the dangerous behavior that many of these pages foster."
Correction
This article has been updated to include the correct date by which Senator Markey has asked Facebook to provide information on how it intends to address the issues raised in his letter. That date is Feb. 9.
Update
This article has been updated to include Facebook's response, which we received after press time.