One of the first things I did upon moving into a new apartment last November was get a better deal on my broadband internet. 
To discover what other internet service providers (ISPs) offered service to my building, I used a handy resource that the Federal Communications Commission had just released to the public a few days earlier—a new version of the National Broadband Map. It's an interactive tool that displays which companies offer connections at every location in the country and the maximum speed for those connections.
When I entered my address into the map, I discovered that Astound, a provider I didn't know about, could offer me the same speeds I was getting from Spectrum, which was already the internet provider for the apartment. A visit to Astound's website revealed that the company could also give me a cheaper price, which ended up saving me around $27 a month.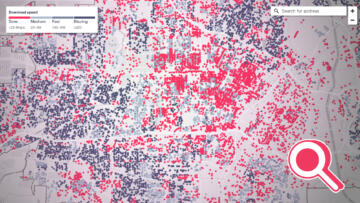 Still Loading
See the Neighborhoods Internet Providers Excluded from Fast Internet
Explore The Markup's interactive map to see where AT&T, CenturyLink, and Verizon offered only slow internet speeds in major U.S. cities
The National Broadband Map has gotten major updates twice each year for more than a decade with info about which companies provide internet service to a given area. However, until last year, the map only had details for a general area—not for individual addresses. This lack of granularity presented a problem because, as an investigation into the digital divide by The Markup showed, the maximum speed offered by just one provider can vary dramatically from block to block, or even house to house. 
The new version of the map tries to identify every location across the country capable of receiving broadband internet service and what level of internet service, if any, a company can provide at that location. 
But the map, as it currently exists, is far from perfect. Locations are missing, and the availability of information, as submitted by providers, often doesn't match the reality on the ground. However, the process of using the map to help you shop around has the upside of the potential to reveal, and allow you to personally help fix, inaccuracies on the map. Members of the public can identify errors and submit corrections themselves.
Since the map is a starting point for allocating more than $42 billion in federal broadband funding in America, by identifying inaccuracies on the map, you can help play a small part in potentially guiding money to where it is most urgently needed. 
Here's how to search for a better deal on broadband.
Visit the National Broadband Map at https://broadbandmap.fcc.gov and enter your address. Ideally, your correct address should immediately come up as an option with all of the availability data displayed for your perusal. But the map can be, at times, a little temperamental. It may take a bit of resubmitting your address and clicking around to get the data you're looking for to display.

If you can't get the map to locate your address, skip to step four.
Are any offering high speeds apart from the one you currently use? (Make sure the "Fixed broadband" button in the upper-right-hand corner is highlighted.)
The type of each connection offered is listed in the "Technology" column and, broadly speaking, "Fiber to the Premises" is considered the best type of connection in terms of speed and reliability, followed by cable. Connections listed under copper are usually slow and outdated. Satellite and fixed wireless connections can be extremely useful if there are no other options available, but they are generally considered inferior to fiber and cable. 
Providers are identified by their corporate name, which is not necessarily the same one they present to the public when offering internet service. Charter Communications' internet brand is Spectrum. Astound is listed under Radiate Holdings, LP. You may have to do a bit of Google sleuthing to figure out who is who.
There's no direct link on the map, so you need to search on Google (or your search engine of choice) to get the URL. For example, I searched "Radiate Holdings broadband" and found Astound's website.
Once you're on an ISP's website, enter your address into the tool that lets you search to see if the company serves your location—most ISPs have this in a pretty obvious place. You might find a faster speed, a lower price, or both. 
Hit the map's "Availability Challenge" button and select the provider on whose site you noticed a contradiction. Decide if you want to file an official challenge, which forces the provider to check for errors, or submit an FYI to the FCC.
If you file an official challenge, FCC staff will perform an initial review, and if it passes muster, the internet service provider has 60 days to either concede the challenge and accept your revision or make its own argument to the agency backing up why what it originally submitted to the map was correct. If the provider doesn't concede the challenge, the company may get in touch with you directly about it and point out where you may have been mistaken. In any case, the ultimate decision about what to do regarding any challenge is left up to the FCC.
If you're submitting an FYI, your information will be used to inform the agency's general efforts to improve the map but won't kick off a challenge process.
Fill out your information and, in the "reason for challenge" section, select either the ISP "does not offer the speed(s) reported" or the ISP "does not offer the technology reported" at your location. Describe your experience and, if you can, upload a screenshot to prove what you saw. 
You may not have gotten a better deal, but you just did your part to improve the FCC's map! (Note: You have to either own or live at a location in order to submit an availability challenge there.)

For more info on submitting an availability challenge, check out the FCC's page on it here, and for info about what happens after submission, check out the FCC's page explaining that here. 
For example, people who live in apartment buildings with multiple units might see their building listed as a single-family home. If you see something wonky, or can't find your location, look around on the map to find the building that most likely matches your home. Then, click the "Location Challenge" button, and then describe the issue. For more info, check out the FCC's pages on submitting a location challenge and what happens after you submit.
Again, no better deal for you, but you're still helping improve the map!
If you followed the above steps, we'd love to know what happened. Did you find a better deal on your internet or submit a challenge to the FCC? 
Interested in following our reporting on internet disparities? Subscribe to The Markup's newsletter.