When Uber and Lyft won a major political showdown last November by pushing through California's Proposition 22, many predicted the gig economy companies would take their legislative victory on the road. And indeed, they've formed political action committees and reached out to unions, governors, and state officials across the country. But nowhere is the fight as immediate as in Massachusetts.
Earlier this month, Uber, Lyft, DoorDash, and Instacart submitted a ballot measure proposal to the Massachusetts attorney general—the first such proposal since California's Prop 22. If passed by voters, the proposal would settle what gig companies consider an existential issue: whether drivers are classified as independent contractors or as employees. The proposal would exempt the companies from a state law that requires them to treat workers as employees and so pay them minimum wage and provide benefits like health care and sick leave. The ballot measure language appears to be nearly identical to what the companies pushed through in California following their $205 million campaign to win over voters.
The proposed ballot measure is still a long way from reality. The Massachusetts attorney general must certify its language (her decision is expected in September), and the gig companies would then need tens of thousands of signatures to get the initiative on the November 2022 ballot. If they get to that point, the gig companies seem convinced that a California-style campaign will work in the Bay State. 
"We absolutely prefer a legislative outcome in Massachusetts," Uber CEO Dara Khosrowshahi said during a company earnings call earlier this month, referring to lobbying state lawmakers to pass legislation. "But if we can't get there, we'll take it to the vote. And based on what happened in California, we're quite confident."
The thing is, experts say, Massachusetts is not California. While the gig companies are using California as a blueprint to win, Massachusetts could be a tough test. 
"Because of a longer history and deeper roots with Democratic constituencies, it's a slightly different animal in Massachusetts," said David McCuan, a professor and chair of the political science department at Sonoma State University who specializes in ballot measure campaigns. "While California and Western states are first up and trendsetters, Massachusetts is the state where breakthrough politics can occur."
Gig worker advocates say stronger labor laws, supportive lawmakers, and a highly organized state labor movement await the companies in Massachusetts. And unlike California, where advocates were taken by surprise by the gig companies' tactics and deep pockets, Massachusetts workers have the benefit of hindsight. 
"We've seen Prop 22," said Mike Firestone, director for the Coalition to Protect Workers' Rights, an expansive consortium of worker, civil rights, and labor groups advocating for gig workers in Massachusetts. "We've seen that fight, and we've seen what they tried to do."
None of the gig companies would say how much they're ready to spend on a Massachusetts campaign, so the size of their war chest—a big X-factor in the fight—is still unknown. 
Uber and DoorDash didn't respond to requests for comment. Lyft and Instacart referred The Markup to an association formed by the companies, the Massachusetts Coalition for Independent Work.
"Due to the overlap of the legislative session and ballot question deadlines, we are taking preliminary steps towards the November 2022 ballot," said Conor Yunits, a spokesperson for the companies' coalition. "This proposed ballot measure is a historic, groundbreaking approach for Massachusetts."
The ballot measure would exempt the gig companies from a law that requires them to classify workers as employees, and in return the proposal would "protect flexibility for drivers while also securing new benefits that are unique to the state," said Yunits.
It would create an "earnings floor" for gig workers that is equal to 120 percent of Massachusetts's minimum wage, which Yunits said would come to $18 per hour, and it would reimburse expenses at $0.26 per mile. Yunits said the companies would also provide health care stipends, paid sick time, and family and medical leave for those drivers who work at least 15 hours per week.
But there's a catch: The benefits and pay would only accrue during what the companies call "engaged time." According to Yunits, that time is defined as "when a driver accepts a request for delivery or transportation services to when the driver fulfills that request."
The companies won't pay for time or add to benefit hours when workers are between passengers or deliveries and waiting for the next ping on their apps. Researchers say that time can account for 35 to 50 percent of drivers' working hours.
"You always have to read the fine print with Uber and Lyft—there's a lot of disclaimers," said driver Beth Griffith, who is the chair of the Boston Independent Drivers Guild and a member of the Coalition to Protect Workers' Rights. "That flexibility mantra is just a bunch of bs."
Prop 22 in California has the same "earnings floor" and "engaged time" provisions. Economists at the UC Berkeley Labor Center conducted a study on the proposition factoring in other costs, like unpaid wait time and underpayment for expenses, and calculated drivers earnings to be closer to $5.64 per hour—far below minimum wage. Uber has disputed these findings.
Shannon Liss-Riordan, a Boston-based labor attorney who has represented gig workers in classification lawsuits, called the benefits listed in the Massachusetts ballot measure proposal "fake benefits."
"Why would they need to pass a ballot initiative to give more protections to their workers?" Liss-Riordan said. "They could just give those protections to workers."
While the campaign is just getting started in Massachusetts, the gig companies are already employing some of the tactics that won them California.
Prop 22 was the most expensive ballot measure in California history. In the lead-up to the November 2020 vote, the companies bombarded voters with ads, mailers, emails, and text messages. Uber sent drivers a "constant barrage" of pro–Prop 22 messages, saying it wanted to let them know there was support for the ballot measure. The gig economy companies also hired nearly two dozen political consulting firms that worked to dredge up dirt on labor activists, hired drivers to appear in ads, and conducted studies that promoted the independent contractor model.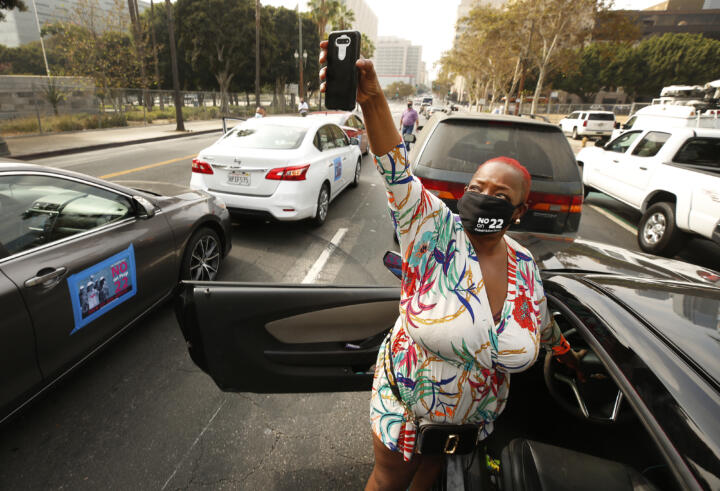 The messaging worked. Prop 22 won with 58 percent of the vote. Exit polls showed that 40 percent of people who voted to pass the ballot measure believed they were supporting gig workers in getting a living wage.
As they did in California, the gig companies have launched a coalition in Massachusetts in conjunction with tech and business associations that advocates for "independent" work. Some companies, like Lyft, have sent messages to drivers warning that politicians aim to "restrict drivers' independence and flexibility." And the coalition has paid for ads that say the vast majority of app-based drivers in Massachusetts "want to remain independent." The coalition website also touts articles that cite polls the companies commissioned and first-person accounts by drivers who say they don't want to be employees. The amount of money the companies have spent is not yet publicly available. 
But in some other respects, the situation on the ground in Massachusetts differs from what gig companies encountered in California. 
The Prop 22 fight in California started over a 2019 law, AB5, requiring companies that employ independent contractors to go through a three-part "ABC test" to determine whether workers should be classified as employees. Rather than be subject to the law, Uber, Lyft, DoorDash, and Instacart launched their Prop 22 campaign. During all of this, California's attorney general sued Uber and Lyft for violating AB5. While that suit is ongoing, Prop 22 ultimately exempted the companies from the law. 
Massachusetts has a similar law to AB5, but it's much older (it went into effect in 2004 and actually served as a model for California's law), and it's more ingrained in the state. There've been several prior attempts to water down the Massachusetts law, but none have yet been successful.
Uber and Lyft, however, have consistently argued the law doesn't apply to them. 
In July 2020, Massachusetts attorney general Maura Healey sued Uber and Lyft saying they broke the law by misclassifying drivers as independent contractors. She said the companies didn't pass the ABC test and had to make their drivers employees. Uber and Lyft tried to get the suit thrown out but were denied by a Massachusetts superior court judge.
"Under our laws, drivers in Massachusetts can have both flexibility and the rights and benefits of employment status," Healey said in March. "Our case continues as we seek a court order to force Uber and Lyft to comply with laws that are already on the books."  
Uber and Lyft didn't respond to requests for comment on the lawsuit.
Gig worker advocates in Massachusetts say they've learned from watching California's Prop 22 battle and therefore have a good idea of what's coming. Firestone, from the Coalition to Protect Workers' Rights, said the coalition began organizing early with a broad array of worker, labor, and civil rights groups to come together on a unified position for gig worker classification.
Munim Khan, who's been a full-time Uber and Lyft driver in Massachusetts since 2011 and is part of the coalition, said he would prefer to be an employee. He's experienced repeated pay cuts over the years, he said, and has little to no job flexibility since he works well over 40 hours a week to make ends meet.
"Lyft and Uber are sending the wrong message to the drivers," Khan said. "We can learn so much stuff from what happened in California."
In the run-up to Prop 22, and more recently in New York, Uber and Lyft reportedly tried to cut a deal with major unions and lawmakers that would have exempted the companies from providing full employee benefits to drivers. But in Massachusetts, labor organizers say they're committed to opposing the gig companies' agenda and that no such talks are taking place. 
"The labor movement is 100 percent united behind the campaign to hold Big Tech accountable," Steven Tolman, president of the Massachusetts AFL-CIO, said in an email. "These companies are ready to spend $100 million on misleading ads, all so they can avoid paying taxes, avoid paying workers fairly, and avoid liability to customers. The people of Massachusetts just want these companies to follow the law like every other responsible business."
During the California campaign, the gig economy companies paid $95,000 to a small firm run by Alice Huffman, then president of the NAACP's California chapter. She subsequently appeared in Prop 22 mailers and wrote op-eds in local Black newspapers advocating for drivers to be classified as independent contractors. The Prop 22 campaign said at the time that she was helping it with "outreach efforts in communities of color."
Learning from that experience, Firestone said, the Coalition to Protect Workers' Rights has brought on several social justice and civil rights organizations to collaborate, including the Coalition for Social Justice, ACLU Massachusetts, and the New England chapter of the NAACP.
"We know we have to do the work as a community united effort," said Firestone. "The grassroots organizing around drivers has been happening for years…. We have a fighting chance now because we're building a coalition. A real coalition."
McCuan, the Sonoma State professor, said it's still either side's game.
"Because of long-running legislation and because of the strength of labor, it can be harder for the [gig companies] to find an avenue to victory," McCuan said. "But they can spend a lot of money…. The opportunity to strike or act for these unprofitable gig companies is huge because they understand the writing is on the wall for their business model."