Hi readers,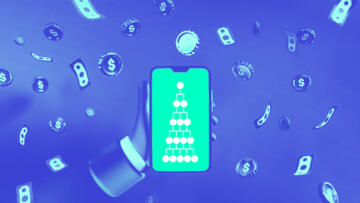 News
Pyramid Schemes Are Illegal. MLMs Are Not. What About the Tech That Powers Them?
Multi-level marketing companies have captured the public's attention in recent years. Behind them is a little-known industry of software providers
I hope you're well! I'm investigative reporter Malena Carollo, and I'm back to talk with you about an unexpected space where technology is central: the multi-level marketing world. 
For the uninitiated, multi-level marketing companies are businesses that sell goods or services to customers through salespeople who also recruit new members to join. You might be familiar with ones that have become household names—Tupperware, Herbalife, Cutco knives. The industry has been the subject of podcasts like "The Dream" and popular docuseries like LuLaRich.
Recruits are often drawn in by the promise of additional income, a chance to achieve financial freedom, and access to a tight-knit community. Some are lured by flashy prizes top sellers can earn, such as the pink Cadillacs Mary Kay offers. But the reality is that very few people actually make significant money in this kind of business. A close look at the income disclosures some of these firms provide shows that large swaths of recruits make just a few hundred to a few thousand dollars a year before expenses. Many outright lose money.
So where does technology come in? That's where we need your help.
We've identified one way it intersects with this space: software that allows multi-level marketing companies to conduct their business. A niche subset of software firms provides the technical infrastructure for the industry's needs, including its unique compensation structure (think of an upside-down tree, where new people are added to an existing "branch"). In an article published this week, I delve into this software and what responsibility its makers have if a client turns out to be operating an illegal pyramid scheme. (Spoiler: It's complicated, but there is precedent for holding such companies accountable.)
But there are many other ways technology might show up. It could be the very products or services a company is selling. Maybe it's the social media or messaging platform sales representatives use to communicate with one another and sell to customers. Or it might be something else entirely.
If this sounds like a multi-level marketing company you were part of, something that you helped design, or brings to mind something else in this space we should look into, I'd like to hear from you.

Please feel free to email me at malena@themarkup.org or text or call me at 813-591-0688 (I'm also on the encrypted messaging app Signal at that number). 
Best,
Malena Carollo
Investigative Reporter
The Markup