Last weekend, the double-feature phenomenon dubbed Barbenheimer brought in a combined $244.4 million in what felt like a return to the prepandemic movie experience. Except now, the workers who make Hollywood function and flourish are fighting to ward off a different invisible threat: artificial intelligence. 
In May, 11,500 members of the Writers Guild of America went on strike, demanding fair wages; better residuals, which have shriveled in the streaming era; and assurance that AI would not take their place as screenwriters in the future. That last point captured my interest as an editor here at The Markup, where we've been keeping an eye on this technology. Hollywood screenwriters are grappling with the same tensions we are: Technology like ChatGPT has the potential to assist writers with summarizing and other tasks, which is why the WGA is not attempting to ban the technology completely. Instead, writers proposed a framework that would allow them the latitude to make use of AI while also guaranteeing AI wouldn't be used to create or rewrite scripts or lessen writers' pay or credit for their work.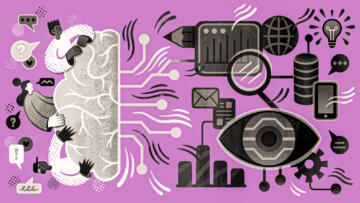 Hello World
In AI We (Don't) Trust
Chatbots like ChatGPT are trained to mimic patterns they find in how the internet speaks. What does this mean for what we trust online?
This debacle is expected to drag on through late October, Deadline reported. A shocking quote from an unnamed studio executive revealed that writers are in for quite the fight. "The endgame is to allow things to drag on until union members start losing their apartments and losing their houses," the studio exec told Deadline.
Many creative types are wrestling with the credit conundrum and questions around copyright when it comes to making use of content that has been trained on original illustrations, graphics, and written material. Comedian Sarah Silverman sued Meta and OpenAI in the U.S. District Court for the Northern District of California for copyright infringement, alleging in a proposed class-action lawsuit that the companies trained their chatbots on her books without her consent. The cases are pending. Now actors, who went on strike this month, citing collapsing conversations around AI as a key issue, are fighting to protect their likenesses. 
SAG-AFTRA negotiators said the studios proposed scanning the likenesses of actors, including day-rate background actors, when they enter a set, and using that information forever. The Alliance of Motion Picture and Television Producers (AMPTP), which represents the studios, denied that these digital clones (so to speak) would be used in perpetuity without consent or compensation.
SAG-AFTRA president Fran Drescher, whom you may know as the titular star in the sitcom "The Nanny," said on the dawn of the strike, "If we don't stand tall right now, we are all going to be in trouble, we are all going to be in jeopardy of being replaced by machines."   
And there are very real, current examples of this threat coming to life. The opening credit scene of the Marvel show "Secret Invasion" was made completely with AI. As The Intercept reported this week, Netflix is actively hiring for a product manager of its "Machine Learning Platform" with an annual salary range of $300,000 to $900,000. (The job listing is here.) 
$300K to $900K
Salary range advertised by Netflix in a job posting for a product manager for its "Machine Learning Platform"
Plenty of folks check out of any Hollywood story because, on the surface, the movie and TV world seems made up of the rich and famous—people easily viewed as out of touch with most of our realities. But in actuality, most of the people striking, including actors, make barely livable wages—a member of the SAG-AFTRA negotiating committee told Democracy Now! that 87 percent of the union's members earn less than $26,000 a year. Workers in tangential industries who aren't members of SAG-AFTRA or WGA, such as makeup artists, are also hurting with productions at a halt.
Above all, this is a labor story that will amplify the ongoing debate about the generative technology that workers all over the world are dealing with—including journalists.
Rest of World reported that in the Philippines, an epicenter of outsourced businesses like call centers, workers in that industry are increasingly worried about their jobs being automated via AI, which could also collapse the economy there. In Kenya, OpenAI paid workers less than $2 an hour to train the technology against spitting out violent, racist, toxic, and sexist content, an investigation from Time magazine found.
With some of the most visible and famous people in the world calling for what could be the first union contract(s) to include guardrails for the rapidly advancing technology, the implications of this strike go far beyond Hollywood. Perhaps it'll galvanize other industries at a time when strikes have been imminent across several fields around the world, from delivery to rail to medicine. 
No matter what happens, with fewer things to watch—RIP to our fall television schedule—I know I will train my eyes on the picket lines, especially as screenwriters draw connections between their industry and mine. After Gizmodo's io9 produced AI-generated stories this month, some of which were laden with errors, to the chagrin of its staff, WGA called it an "existential threat to journalism" and demanded an end to the practice. 
"This fight is not only about members in online media," the statement reads. "This is the same fight happening in broadcast newsrooms throughout our union. This is the same fight our film, television and streaming colleagues are waging against the Alliance of Motion Picture and Television Producers (AMPTP) in their strike."  
But there's reason to believe humans will win out in the end. When New York Times tech correspondent Sheera Frenkel asked ChatGPT to write something in the style of her voice, it picked up on a refrain she uses often: "the bastions of free expression." Frenkel described the experience as eerie, but she wasn't worried about it taking over her job. 
"It can imitate what I've already done. But the whole point of news is that what we're bringing you is fresh and based on new reporting," she said. "So the conclusions we're drawing for readers are constantly changing. And AI can't do that."
Thanks for reading.
Ko Bragg
Editor
The Markup