Hello, Friends,
Our Citizen Browser project gives us a unique tool: the ability to gauge, when big events happen or incendiary political debates flare up, how they're being represented on thousands of Facebook feeds around the country.
We did this after the Jan. 6 riot at the Capitol and found that panelists who had voted for Donald Trump were exposed to significantly different news on the riot than panelists who had voted for Joe Biden. This week, we turned to our panel to see what sorts of content these two groups of voters were being fed on two current events: the Juneteenth holiday, which was designated a federal holiday less than two weeks ago, and "critical race theory," which has become a ubiquitous right-wing talking point. Here's what we discovered.
Juneteenth
We queried data in the Citizen Browser database to find any Facebook timeline post that contained the word "Juneteenth" in either the post text, URL (if the post contained an external link), Open Graph description, or image alt text. In total, from June 1 to the end of June 19, we retrieved 1,080 unique posts mentioning Juneteenth, which appeared in the news feeds of just more than half (536) of the 1,001 panelists who sent us data during this time period.
(See our data on GitHub.)
Of the 671 panelists who voted for Joe Biden in November, 60 percent (405) saw at least one post about Juneteenth, while 39 percent of Trump voters (84 of 216 total) saw a Juneteenth post. Here were the most commonly seen posts for each group: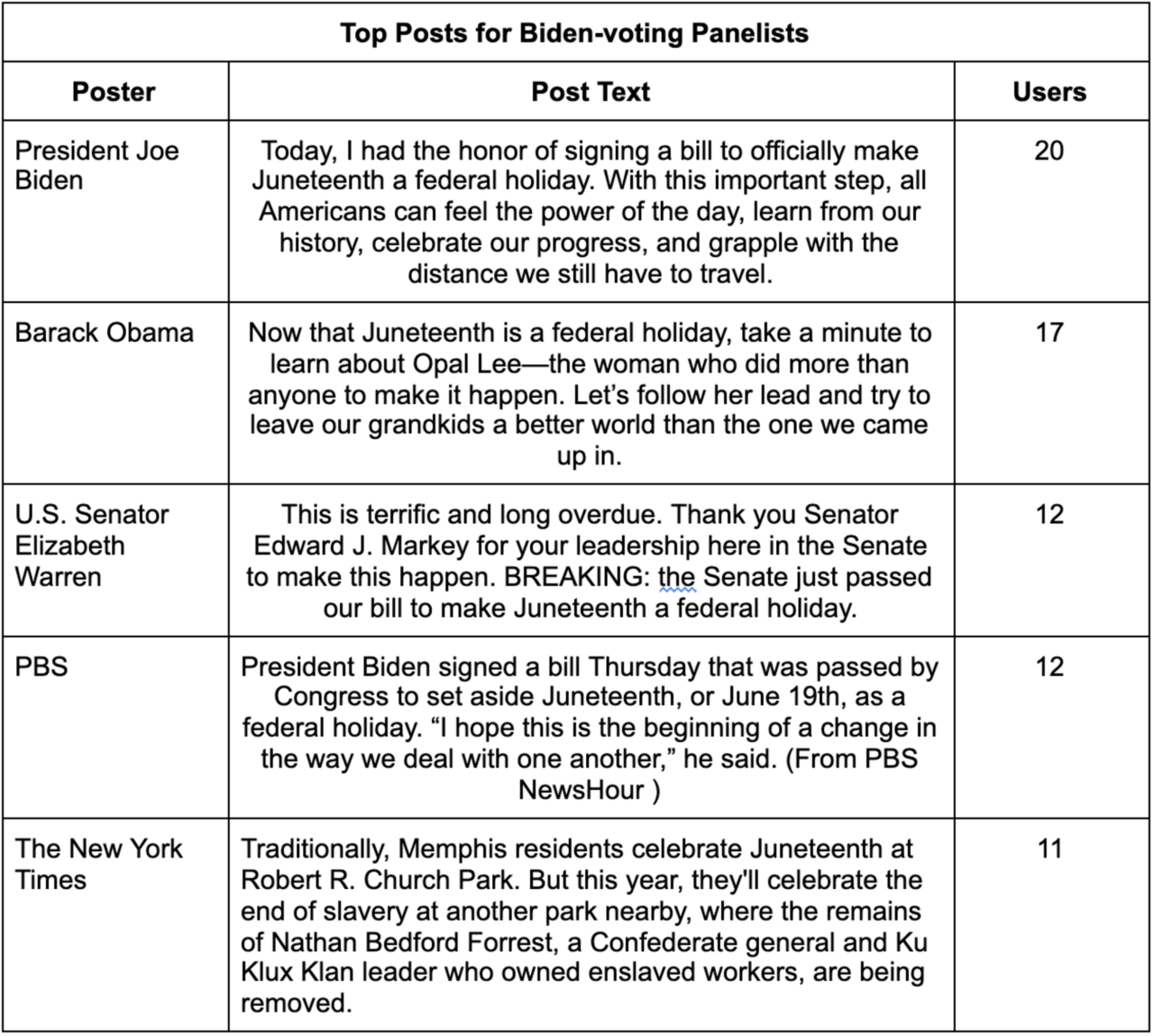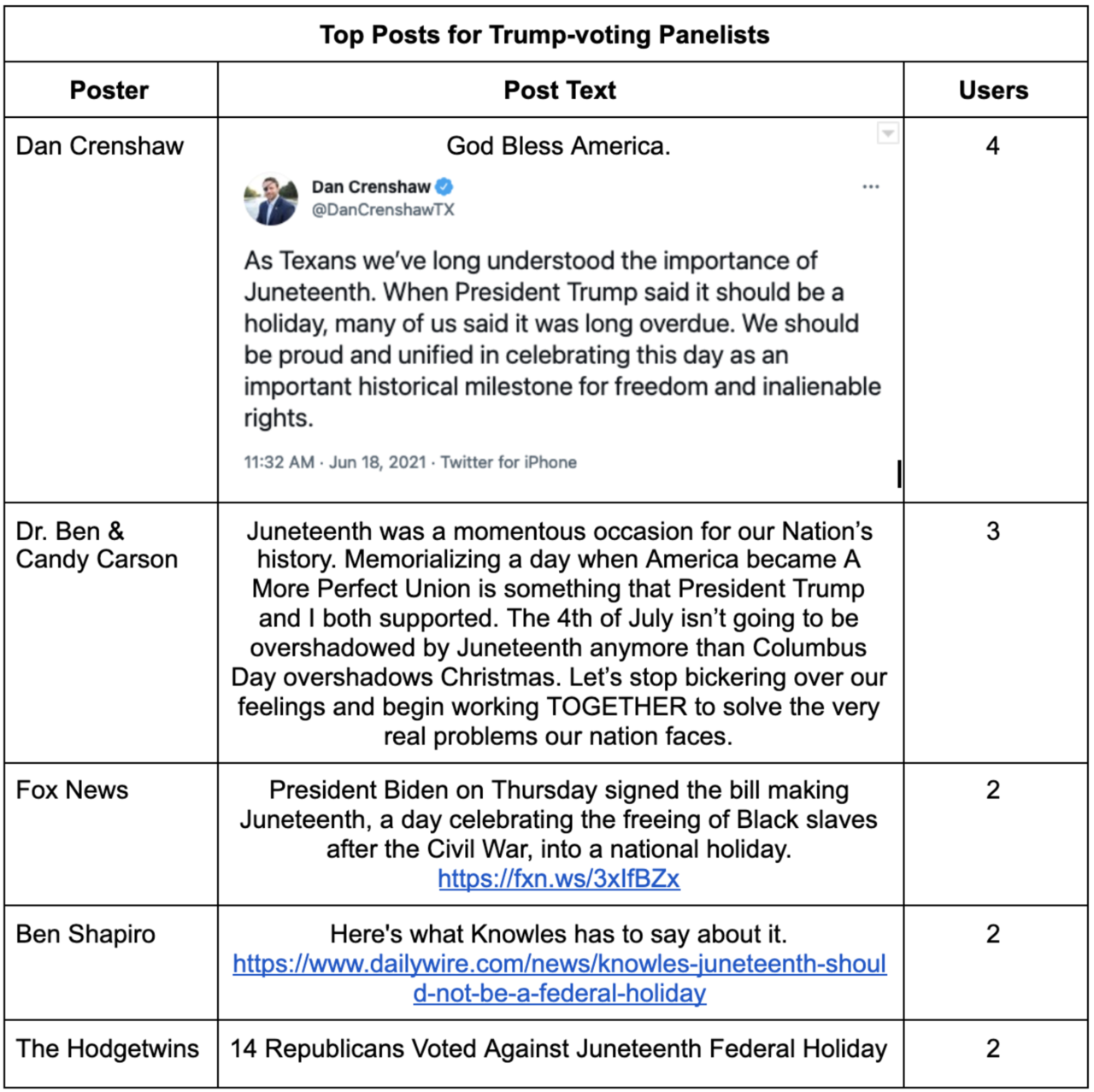 Critical Race Theory
Another hot topic appeared in many of our panelists' feeds: critical race theory. Here, a peek at those feeds shows that while many (though not most) of our panelists saw some sort of post about critical race theory, the sources for those posts varied widely by voter group.
From June 1 to June 19, Citizen Browser panelists saw 498 unique posts mentioning "critical race theory." Overall, these posts were seen by 400 of the 1001 panelists during that time, or 40 percent.
Just more than half of Trump-voting panelists (111 out of 216, or 51 percent) were shown posts about critical race theory in the lead-up to Juneteenth, compared to 38 percent of Biden-voting panelists (252 of 671). The top sources of posts mentioning the phrase were quite different for different voters.
Facebook did not respond to a request for comment.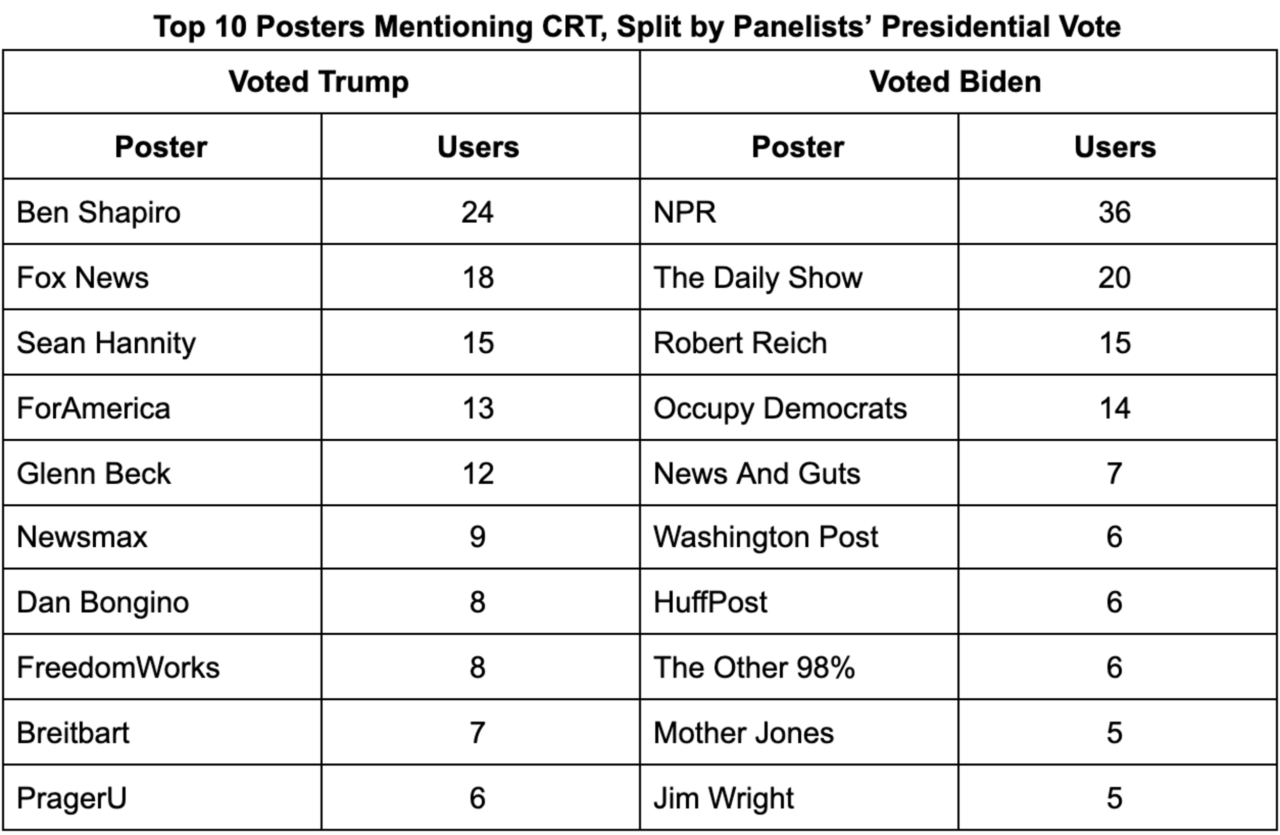 The hubbub over CRT also made it into political advertising on Facebook. In the first three weeks of June, five ads were served to Citizen Browser panelists that mentioned "critical race theory"—all of them negative.
One ad paid for by "Friends of Ron DeSantis," a political committee supporting Florida's governor, read, "Our kids should be taught to love our country, not hate it. That's why in Florida we've banned Critical Race Theory in our classrooms—taxpayers should not fund state-sanctioned racism. We want education, not indoctrination!"
An ad paid for by Georgia Republican governor Brian Kemp's reelection campaign committee read, "In Georgia, we will not allow dangerous ideologies to take root in our classrooms, and we will always put our students first. Join Governor Kemp in taking a stand against Critical Race Theory!"
"Critical race theory" also shows up as a major topic in our Split Screen tool, which is a dashboard of Citizen Browser data that highlights variances in the content shown to different demographics of users—a good place to get your own glimpse into what's happening on other users' feeds.
From Citizen Browser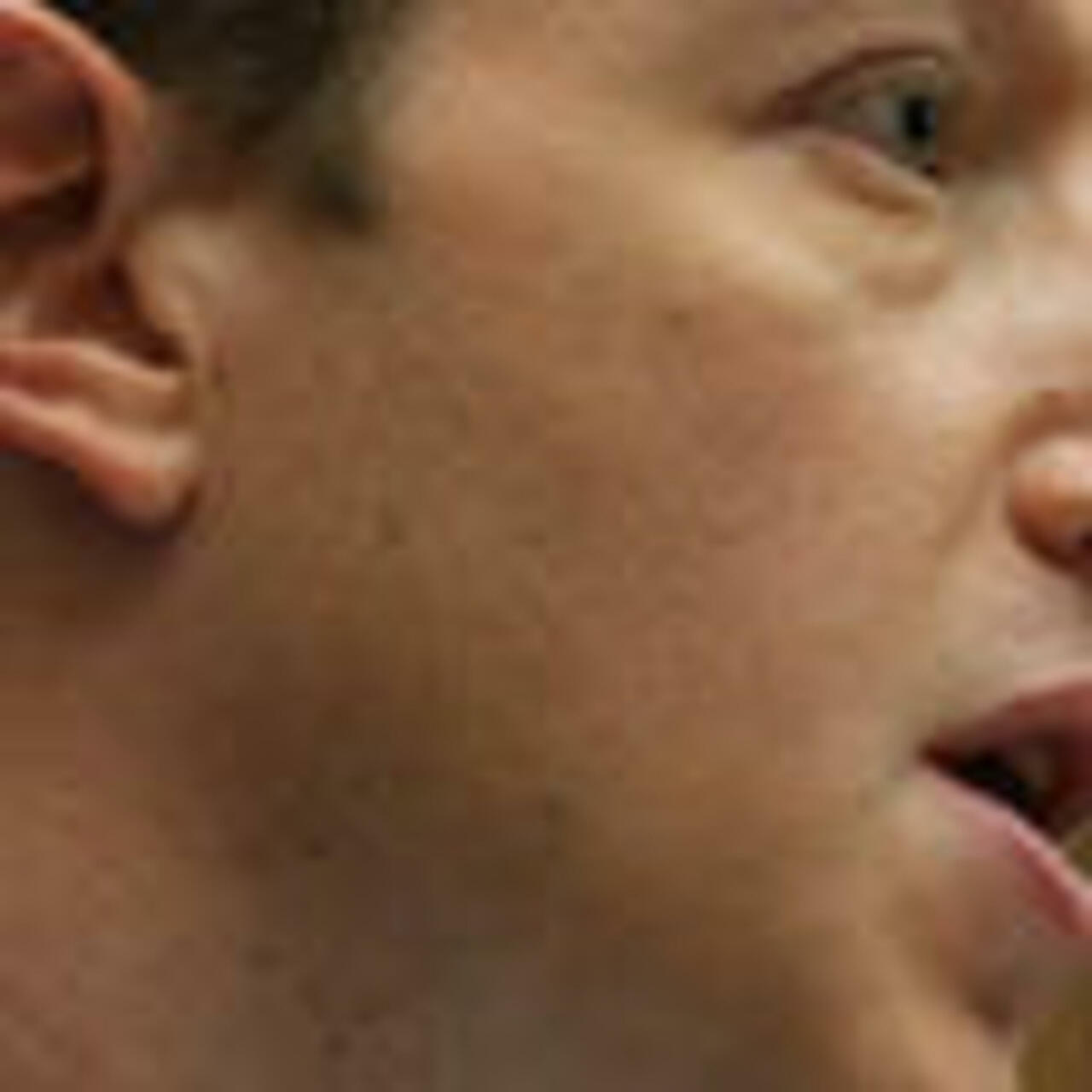 After Repeatedly Promising Not to, Facebook Keeps Recommending Political Groups to Its Users — themarkup.org
The company announced the policy as a way to stop spreading divisive content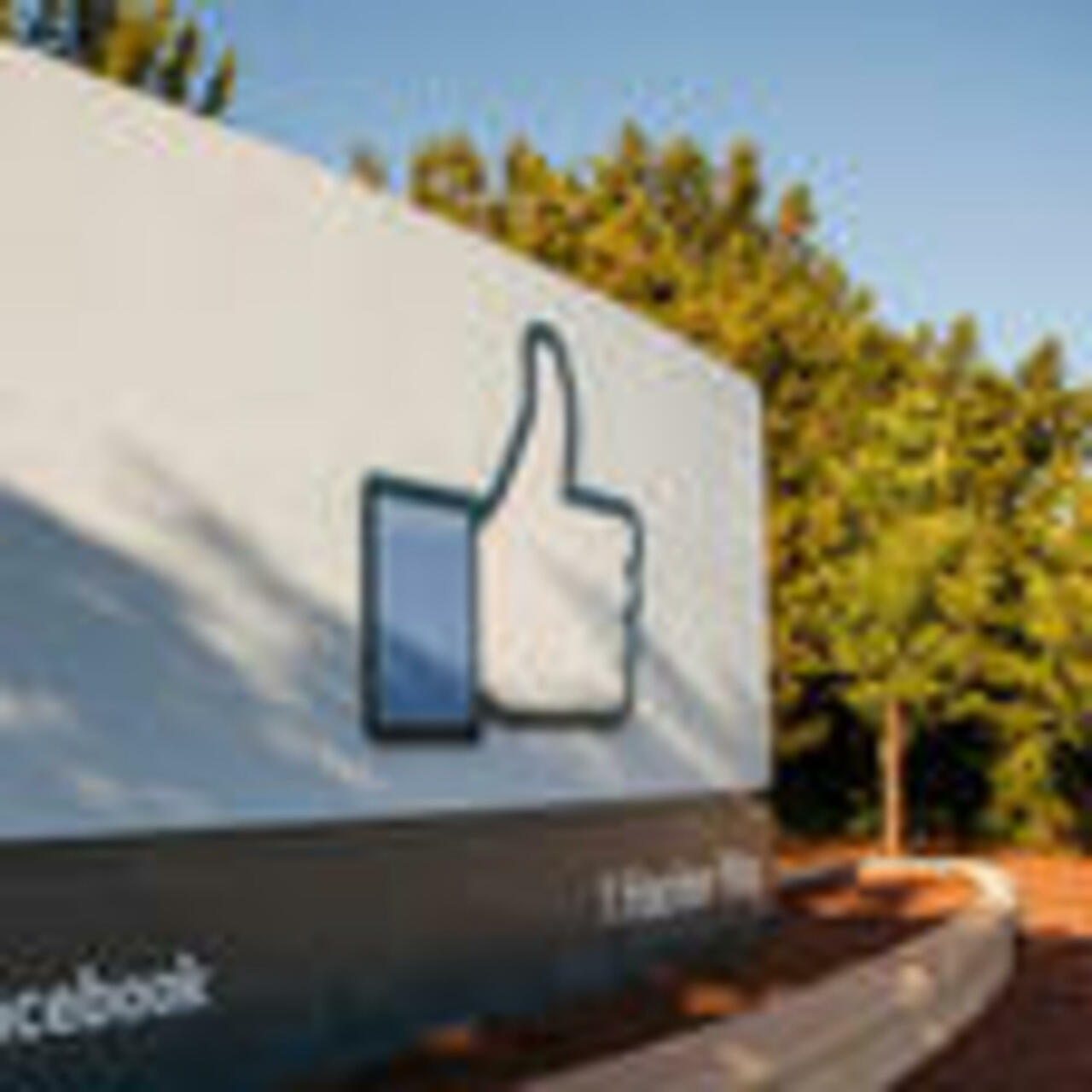 Facebook Pledges to Remove Discriminatory Credit and Loan Ads Discovered by The Markup — themarkup.org
The Markup's Citizen Browser project found four companies targeting ads for financial products to specific age groups—a violation of Facebook policy and, potentially, civil rights laws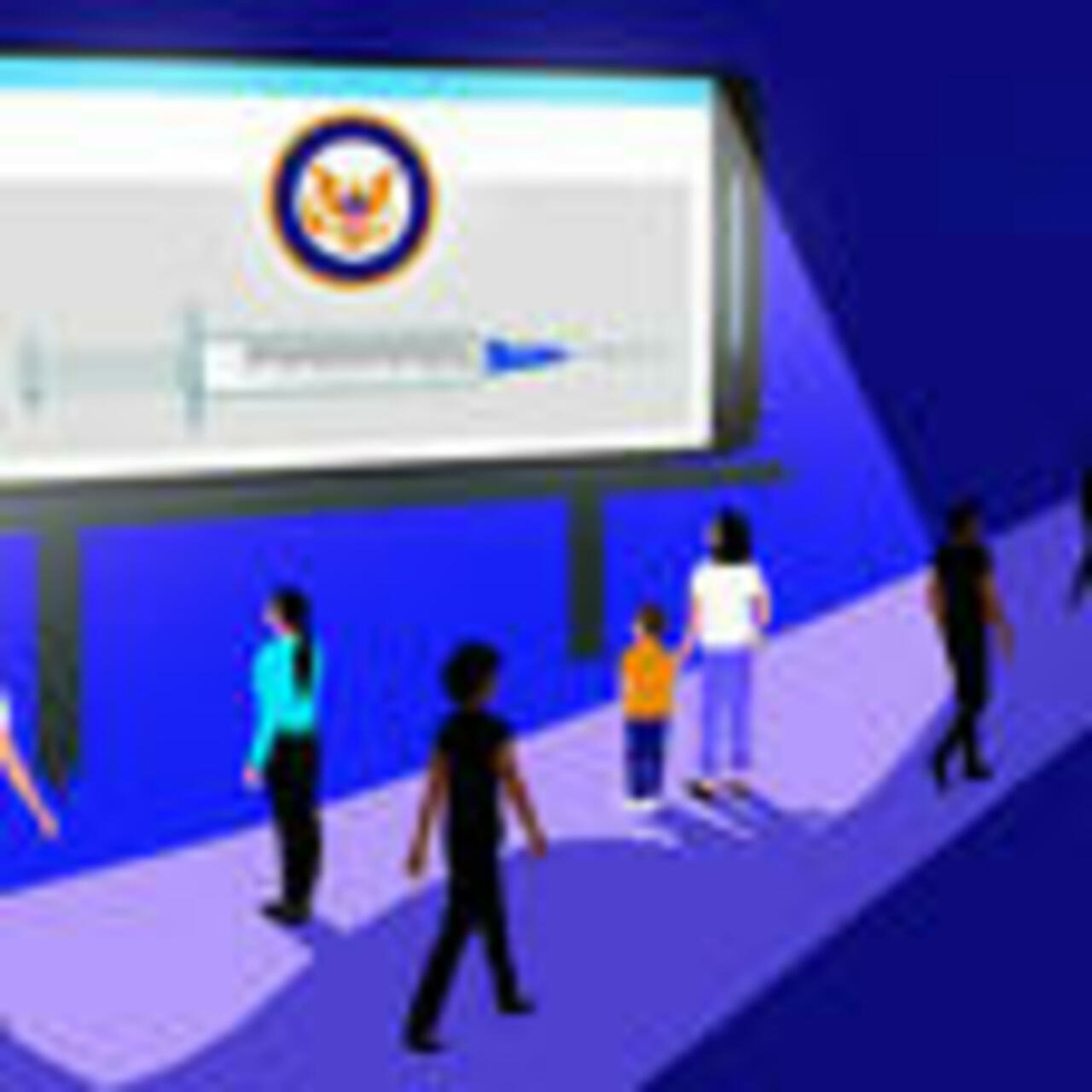 Official Information About COVID-19 Is Reaching Fewer Black People on Facebook — themarkup.org
According to data from The Markup's Citizen Browser project, there are major disparities in who is shown public health information about the pandemic