Twitter is now slowing down traffic on links to the crowdfunding site Patreon, WhatsApp, and at times, Meta's Messenger app, a Markup analysis confirms. 
Using a tool launched by The Markup last month, readers discovered that links to these sites were delayed by an average of 2.5 seconds—findings we confirmed. 
Patreon users told The Markup that the throttling undermines their ability to reach new supporters on Twitter, which has historically been a key platform for building donations. "It's dirty pool," said Matt Carlin, the producer of a popular call-in show, Office Hours Live, which takes in nearly $30,000 per month from Patreon and is being throttled. "It's another big tech company trying to squash little guys—or, in their attempts to squash bigger guys, squashing little guys like us."
In September, The Markup reported that Twitter, now officially named X, was slowing down links to Bluesky, Facebook, Instagram, and Substack, also by an average of 2.5 seconds, which can feel extremely slow for users. We simultaneously launched a tool that lets readers test any link posted on X (which the platform automatically shortens using the t.co domain), and measured the time it took for X to redirect the link to its original destination. The Markup also built a bot that would let us know if any links readers were testing appeared to be throttled.
Shortly after publication, readers began using our tool, and we received alerts that Patreon, WhatsApp, and Messenger links appeared to be throttled. To confirm these findings, we created new links and measured over several days the performance of redirects to the 25 top-earning Patreon campaigns, as measured by tracking site Graphtreon on September 30.
During that time, we also tested 25 randomly selected recently tweeted links to both WhatsApp and Messenger. With the exception of six Messenger links that do not seem to be throttled, we consistently found the same 2.5-second slowdown. We do not know why most, but not all, links to Messenger's m.me domain are throttled.
The platforms The Markup found X throttling all compete at least partially with the platform's growing list of features. Elon Musk has said he plans to evolve X into an "everything app," to be used not only for sharing posts but also sending money, livestreaming, and paying creators to share their content on the platform. 
X did not respond to a request for comment.
↩︎ link
Patreon Throttling Irks Creators
Patreon is a popular crowdfunding platform that hosts fundraising pages for over 200,000 creators who collect revenue from more than 6 million "patrons."
Laurent Crenshaw, Patreon's senior director of policy and external affairs, said in an emailed statement, "Creators are locked into social platforms that take away their control—of their community, their creativity, and their ability to build a business. When a fan decides to follow a creator, they should be able to see 100% of their posts, 100% of the time."
The throttling for Patreon applies to more recently generated links, we found. Every new Patreon link The Markup created on Twitter for testing purposes was throttled, but when we tested dozens of older t.co links, they had no delay. It's unclear exactly when X started throttling Patreon links. 
"We had a feeling that there was some funny business happening," said Max Collins, the lead singer and co-founder of the band Eve 6, "because whenever we would post our Patreon links … they would get kind of remarkably little reaction compared to other things that we post on our page, that does have a lot of followers."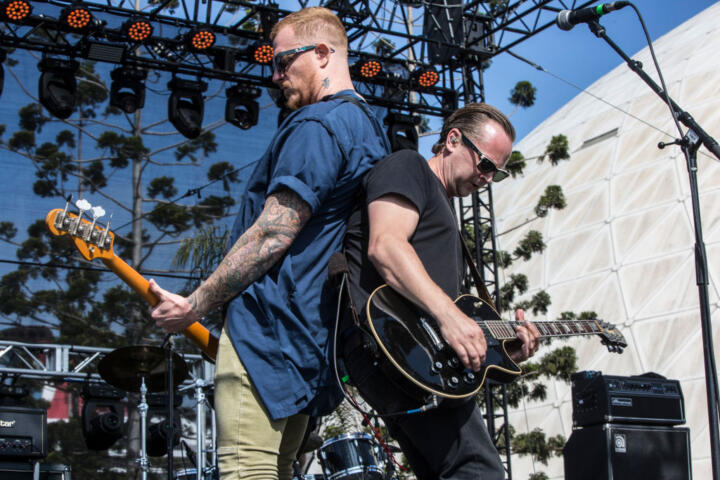 By July, the band was aware of the throttling and avoided posting links to their Patreon on X, where they have over 170,000 followers.
Collins told The Markup that Patreon is crucial to the band's plan to release new music and writing to dedicated fans. He said the band's 649 Patreon subscribers bring in close to $3,000 a month, about five times the band's revenue from Spotify, where it gets about 1.5 million plays per month.
Peter Shamshiri, co-host of the "5-4" podcast, which offers "progressive and occasionally profane" takes on Supreme Court cases, called X's throttling of Patreon links "just sort of one more nail in the coffin for our use of Twitter as a promotional vehicle." Shamshiri said he had heard earlier reports about Twitter throttling links to other platforms, but was not aware that links to his show's Patreon page were also being delayed. 
According to 5-4's Patreon page, the show currently pulls in around $56,000 per month from over 12,000 contributors. Shamshiri said Twitter was crucial to building an audience for the podcast, which started in February 2020. Shamshiri added, "When we started 5-4, for example, it was an endeavor that was sort of through the vessel of Twitter in many ways. That's how we promoted ourselves. The only reason anyone really listened is because we had relatively prominent Twitter accounts in these spaces." Shamshiri said now that Twitter has become a less welcoming place for progressive voices, the show is directing its promotional efforts at social network Bluesky and has found much more engagement on the young platform. 
Carlin, the "Office Hours Live" producer, said he was not aware that links to his show's Patreon were being throttled. Hosted by comedian Tim Heidecker, "Office Hours Live" earns most of its revenue from Patreon, which Carlin said "really is what makes the show happen that supports us and pays the bills."
Meta did not respond to a request for comment. 
Collins, Shamshiri, and Carlin all agreed that X's Patreon throttling creates significant obstacles for creators already struggling to gain attention. Collins noted, "We're also really fortunate to have a huge platform on there [Twitter]. So, we're still getting some benefit from those posts, even if they are being throttled or whatever. I think people who don't have as big a platform are really getting lost in the shuffle when they try to put stuff up that is an outside link."
Shamshiri agreed, noting that "for smaller independent podcasts especially, Twitter has always been a key part of reaching new listeners."
↩︎ link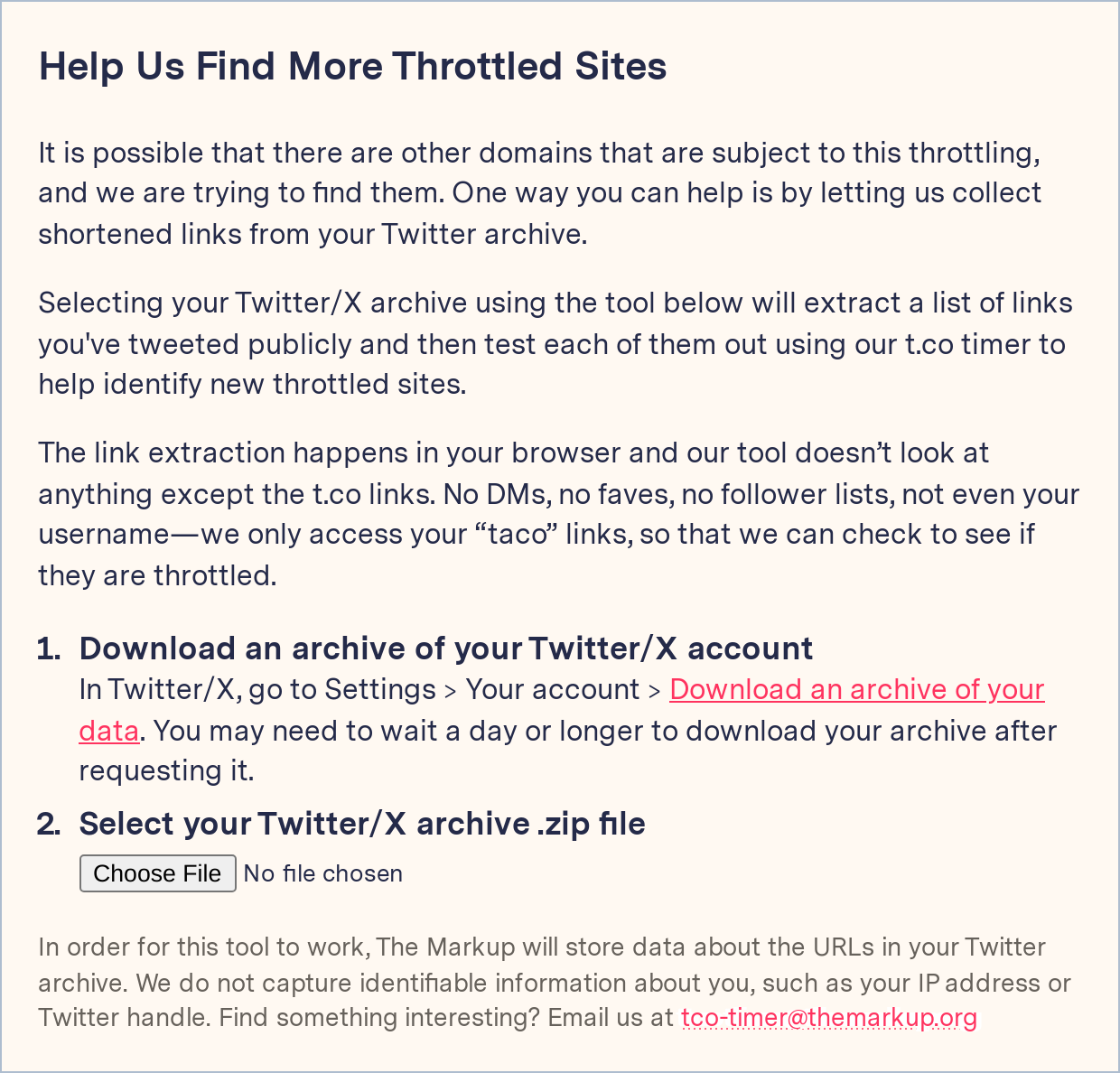 Another way you can help us is by checking any t.co link you think might be throttled using our live Twitter testing tool.