We're hiring editors at The Markup (the deadline is Monday, March 13!), so when Mandy Hofmockel, who runs the newsletter "​​Journalism Jobs and a Photo of my Dog" invited me to do a short Q&A for her readers, I gladly said yes. She asked me about advice I want to share with candidates and what it's like to work here, and the more I answered, the more I wanted all our candidates to have access to those answers. 
After all, I want our hiring process to be clear enough so that people hearing about us for the first time feel just as equipped as those with friends on staff (or those who follow great newsletters).
Here's what I shared with Mandy. While we're hiring editors right now, what I share below applies for all of our jobs.
First and foremost, we're a values-driven organization. I could list so many examples, but to keep it manageable, here are five that cover a lot of ground:
If these values resonate with you, then you're off to a great start.
When it comes to our application process, we try our hardest to tell you exactly what we'd like to know. This is our chance to get to know you and your work. In the "Your experience" part of our application, we ask that you share three projects with us, but even more important than the projects themselves, we want to hear about the role you actually played. How did the project come about? What was hard? How did you help your colleagues?
Don't hesitate to go into a lot of detail here, because these answers, instead of a test, are what let us see the way you think and how you approach your work. We're hiring editors right now, but this advice applies for all our jobs.
By including real, tangible details that show us how you think. We've gotten hundreds of applicants for the jobs we've posted in recent months, and the applications that stand out are the ones that give us a great understanding of the candidate's approach, as well as tangible examples of how that approach worked in real life. The applications that I have a hard time remembering are usually always the ones that are too vague, or that only share what happened at the expense of the how and the why.
In the six months since I started here, what I have loved the most is that The Markup is a place to think creatively and where we can go after stories that make a difference—without worrying about a lot of constraints faced by other newsrooms. For example, we don't measure our success through analytics but with impact. We also don't cover breaking news (unless, of course, it's directly related or a follow-up to something we've investigated), so our "short-term" projects are usually ones that take at least a week or two to complete, and our long-term projects can span months and months.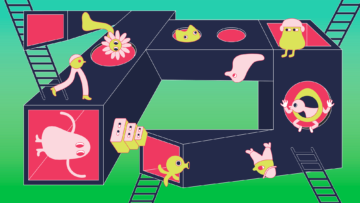 Inside The Markup
Five Ways Toward a Fairer, More Transparent Hiring Process
We want candidates hearing about us for the first time to feel just as equipped as those with friends on staff
What makes The Markup stand out, too, is that we're extremely evidence and data-minded in how we do our journalism. We're constantly figuring out how we can quantify and measure the effects of what we're investigating. Then, we marry that data-driven journalism with a lot of reporting and interviewing to help us get a holistic understanding of what's going on, who it affects, how it affects them, who is responsible, and what can be done about it.
In many ways, we're also still a startup! We hit our third publishing anniversary two weeks ago, and because of the pandemic, we've been 100 percent remote and officeless for most of those three years. Yesterday, we had our first optional coworking day for anyone based in the New York City area.
Finally, on a very tangible level, what it's like to work at The Markup also includes what it's like to work here when you're sick, or want to take vacation, or parental leave. We're really proud of our benefits, and you can check them out here. 
There are two things that I think about a lot and find myself sharing with people over and over, so I hope candidates find this useful too.
First, "technology" coverage isn't limited to technology. The Markup covers technology, and as a result, we basically end up covering any and every beat, because tech is ubiquitous. I don't mean this in the "everyone has a smartphone" way, though that's also very true. Instead, more and more, governments and institutions are using technology to help make key decisions about every part of people's lives—from housing to labor to education to so much more. Covering technology at The Markup isn't about the tech. It's about holding technology accountable to the public, across all sectors. 
Second, I never want our journalism to make people feel powerless, or as if they have no agency, especially when we're talking about technology. Instead, I want our work to equip people with the critical information they need to create change, whether that's on an individual level, company level, or regulatory level. If you care about making sure that your work truly serves people and communities, please apply to join us at The Markup!