Have you ever looked at someone else's Facebook feed? Glimpsing someone else's can feel like seeing another reality altogether: different takes on the news, strange new groups, and ads for things you would never be shopping for. 
Facebook has taken personalization to a global scale. Each of its 2.7 billion users is served a unique stream of news, advertisements, and recommendations tailored to what it thinks each user will like. But we are limited to the confines of our own feeds and cannot see what Facebook looks like for others. 
So we built a tool, Split Screen, to let you explore what different groups of people see in their Facebook news feed.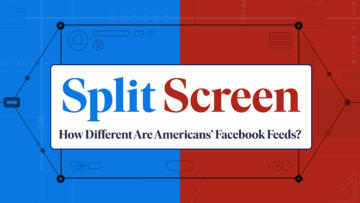 Citizen Browser
Split Screen: How Different Are Americans' Facebook Feeds?
Snapshots from the Facebook feeds of our Citizen Browser panelists illuminate how Facebook's recommendation algorithm siloes information on the platform.
The tool uses data from our Citizen Browser project—a nationwide panel of more than 2,500 Facebook users who have shared their news feed data with us. To protect the privacy of the panelists, we strip out their names, their friends' names, photos, and any other identifiable information. 
We instead identify the panelists by their self-reported age, gender, race, geography, and political affiliation.
Our side-by-side view lets you choose to see what's happening in the feeds of Trump voters versus Biden voters, older people versus younger people, and people of different genders. We show you the different news, hashtags, and group recommendations that appeared in our panelists' feeds. 
Each side of the presentation shows you how often the content was shown to the members of the different demographic groups and people of different political affiliations. Split Screen prioritizes showing content that, by comparison, appears more often in one group's feed than the other's.
There are some significant limitations to our experiment. As documented in our methodology, our panelist samples aren't fully reflective of the U.S. population in key categories, and when we try to slice these groups too thin, we simply don't have enough data to make meaningful observations, so we are only showing pairings for larger groups in our sample. 
Facebook declined to comment for this story.
Split Screen is updated daily, so be sure to come back often and watch how different Facebook users' feeds reflect the news of the day, and how different these views can be.