Things were looking up for Ethel Brooks in early 2020—she was 44 years old, had just moved back home to Los Angeles, and had gotten a job at an Amazon Fresh warehouse near downtown, making around $16 an hour. That March, however, as the pandemic set in and people flooded online to panic-buy whatever they could, Brooks's circumstances took a dire turn. 
Brooks said she and her co-workers worked long hours hurriedly boxing grocery orders. "It'd be like ground beef, Suave soap, and a bag of diapers," she said. "So many of us were in an aisle at a time, so you're right under each other." 
By mid-March, Brooks would be too sick to go to work. She said she had searing stomach pains, couldn't stop sweating, and was too weak to stand. Fearing she had the coronavirus, her sister drove her to the emergency room at Cedars-Sinai. The scene there terrified her.
"They had their tents and their spaceman suits," Brooks said. "They took one look at me, and they knew what was going on. They wrapped me up and took me upstairs, and from that point on I didn't see another single soul."
Brooks's COVID-19 hospitalization would change her life dramatically. While there, she said, Amazon gave her the runaround, didn't provide sufficient time off, and then dropped her from the warehouse's schedule. Without work while recovering, Brooks said she was forced to take out loans to survive.
"The whole thing just snowballed," she said. "That situation has put me in the worst of places."
Within weeks, Brooks would be homeless, living on Los Angeles's Skid Row—one of an untold number of Amazon workers who say the company abandoned them after they contracted COVID. 
When contacted for comment, Amazon spokesperson Kelly Nantel said in an email, "We're disappointed that The Markup intentionally only provided Amazon one day to investigate and respond to this long list of allegations, often with little or no identifying information. While we haven't yet been able to fully investigate these claims, with more than 1.6 million employees globally, we don't believe that these anecdotes represent the experience of the majority of our team."
Amazon has reported no COVID-related worker hospitalizations or deaths to the California division of the Occupational Safety and Health Administration (Cal/OSHA), but several news reports in 2020 described Amazon workers who died from the virus. Harry Sentoso and Gerard Tuzara both worked at warehouses in Southern California and died of COVID in the first few months of the pandemic, along with another worker from an Amazon warehouse in Northern California. Other Amazon warehouse workers in New York, Ohio, Indiana, and Illinois also died from COVID. (See sidebar.)
As with Brooks, the families of several of these workers said Amazon was unhelpful.
The pandemic has laid bare the precarious nature of working in Amazon's warehouses, where if anything goes wrong, such as when a worker gets sick or is mistakenly marked as absent, they can lose their job without recourse. 
Other Amazon warehouse workers around the country have given accounts about how hard it is to get help from the company when they're sick, injured, or need to take emergency time off. The Markup spoke with six other workers who, like Brooks, struggled to get adequate leave. Human resources and benefits coordinators are often automated through apps, chatbots, and anonymous emails. If workers need help, they say, it's often difficult to reach a live human.
Brooks, who said she worked for Amazon for years—first in Georgia and then Los Angeles—said, for her, trying to navigate the system was frustrating. 
"I was pretty much left to take care of myself," Brooks said.
Brooks arrived at the hospital on March 17 and stayed there for weeks, receiving supplemental oxygen. She was unable to eat, so doctors inserted a PICC line (semi-permanent catheter) just above her elbow to feed her intravenously.
It was during this time that Brooks said she reached out to Amazon for help through a series of emails, which The Markup reviewed. Brooks said she was worried about receiving sick pay and being out of work for so long, and concerned that she may not have a job when she got out. 
After being formally diagnosed with COVID, Brooks emailed Amazon's human resources department, known as HRC, on March 23 requesting help. 
"I was wondering how I can be paid during this time and when I can return to work if my results are negative," Brooks wrote. "I contacted the store but no one was there today." 
What followed were several exchanges between Brooks and various Amazon human resources representatives, who provided differing instructions and little in the way of direct answers. 
"Hello Brooke, Thank you for contacting the HRC. Your missed time for March has been marked as excused," read an initial response from a representative identified as "Wes." "Effective immediately, all Amazon employees diagnosed with COVID-19 or placed in quarantine will receive up to two-weeks of pay."
Brooks, whose first name is Ethel, wrote back, "I applied for the amazon fund but haven't heard back from them. I am in desperate need of supplies to get through this and I have no money. Is the two weeks pay automatic or how does that work?"
"Hello Brooke," replied a representative identified only as "SP." "Thank you for contacting the HRC. It takes up to 2 business days for you to receive a decision."   
"What is going on here because I'm not getting straight answers," Brooks responded. "I'm trying to make sure I am paid and will be employed and financially ok after I leave the hospital."
The email correspondence continued for nearly a month. 
A representative who signed "NH" suggested she contact Disability and Leave Services, adding, "I do apologize for the misinformation. COVID-19 is uncharted territory and is ever-changing." 
An email from the grant review team at the Amazon Relief Fund suggested she contact Amazon's Employee Resource Center. 
By mid-April, Brooks said, she was out of the hospital and living with her sister. She hadn't moved her body in weeks, so she used a walker to get around. Trying to roll it through the carpet in her sister's apartment was nearly impossible, she said. Brooks also still couldn't eat and had to keep the PICC line in her arm with a home nurse stopping by regularly to help with care.
"It was a whole freaking rehabilitation really," Brooks said. "It was a lot."
Brooks received two weeks of sick pay from Amazon but said it was not enough to cover her lengthy recovery. And, she said, Amazon gave her no indication that she still had a job at that time. She said she did receive a check from Amazon for $200 but was unsure what it was for.
On April 16, 2020, Brooks sent a final email to Amazon's human resources department asking about a missing paycheck, her eligibility for the relief fund, and whether she had a job.
"I am really feeling discarded here," Brooks wrote. "I have no idea where to contact next."
"Im sorry this has happened," someone who didn't use either a name or initials responded the same day. "The HRC has no insight into this matter."
Amazon's Nantel said company records show Brooks "received a response each time she reached out for assistance." She added that Brooks "received two weeks of paid leave in addition to receiving approved unpaid time off. She then returned to work, voluntarily resigned and got re-hired multiple times, and then ultimately stopped coming to work and was let go."
Brooks said that when she was fully recovered from the complications surrounding her COVID illness, she did apply to work at Amazon a few times again and that she did stop going to work there once she secured a new job elsewhere. 
In addition to Brooks, The Markup spoke with six other Amazon warehouse workers who said they too have gone through confusing and tedious ordeals trying to get sick leave. Most were for COVID, but a couple of workers experienced different health issues.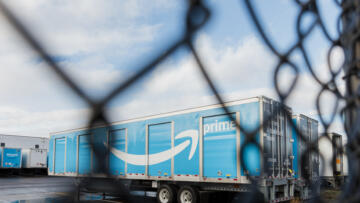 Working for an Algorithm
Amazon Is Rolling Back COVID Protocols in Its Warehouses. Workers Say It's Premature
Two Oregon warehouses have been in an active outbreak for nearly 19 months. Elsewhere in the country, warehouse workers report continual cases
One former worker at an Amazon warehouse in Georgia, who asked that we not use her name for fear of retaliation, said she had a severe asthma attack while at work this past January. She said she got dizzy, light-headed, and began to sweat profusely. She recalled that a co-worker told her that her face had "turned blood-red" and that she should go to the nurse.
She said Amazon's nurse confirmed she was having an asthma attack, which was exacerbated by a panic attack. The nurse told her to lie down, she remembered. After the attacks eased, the worker said, "my body felt like it was hit by a bus," and she wanted to go home. But, instead, she said, the onsite human resources coordinator told her to go back to work because she didn't have accrued time off.
"I really didn't want to risk my health," she said. But "they weren't even trying to listen to what I was saying."
Over the next couple of days, her condition worsened, she said, and her doctor advised her not to go to work, according to a doctor's note shared with The Markup. She emailed Amazon's human resources department trying to get disability leave or figure out some way to get time off, according to an email reviewed by The Markup. But she had no luck. In a last-ditch attempt for help, she emailed former Amazon CEO Jeff Bezos.
"I've worked a few places and I've never felt more like just a number than I do at Amazon," she wrote in the email, which was provided to The Markup. "I've never been told I had to keep working if I get sick because I don't have the time."
She said she never heard back from Bezos's office or from human resources.
When The Markup described the circumstances of what happened to the Georgia worker and asked for comment, Amazon's Nantel said, "You did not provide us enough information to be able to fact check these claims."
In January, Amazon shortened its two-week paid COVID leave policy to just one week. Then, last month, Amazon stopped offering any paid sick leave to U.S. workers who test positive for COVID. Under the new policy, workers can get up to five days excused from work, but that'll be unpaid.
Those workers who feel sick and are waiting for COVID test results will no longer get any excused time off, Amazon said, since rapid testing is "widely available."
"Accrued time may be used to cover a COVID-19 related absence and should be reported in A to Z [the worker app] per our standard sick leave policy," read a notice Amazon sent to warehouse workers that was provided to The Markup by an employee. "As a reminder, you should always stay home if you are sick to protect yourself and others."
Amazon's standard sick leave policy is typically based on local ordinances where workers live, which usually allow people to accrue sick time as they work. If workers use up the days they have, their account drops to zero. When this happens, Amazon workers say they risk getting fired if they take sick leave and don't have another type of accrued time off that they can use, such as vacation days. 
"This is true at most companies," said Amazon's Nantel. "However, if there are extenuating circumstances, the case is reviewed and a determination made based on the unique circumstances communicated by the employee."
Automation in Amazon's processes can also lead to problems in various circumstances, news reports show. 
Amazon has terminated workers when attendance software inadvertently marked them as absent, according to an October report by The New York Times. At one point, the system handling worker leaves malfunctioned and sent off "a blizzard of job-abandonment notices," according to another New York Times report, last July.
NBC News detailed one Amazon worker's saga of spending up to nine hours on the phone trying to get hold of human resources after falling ill with COVID. Several other workers told NBC News that Amazon incorrectly deducted their accrued vacation time while they were supposed to be on sick leave.
"Our teams work to answer calls within 60 seconds and provide a decision about the leave request back to employees within three days," said Amazon's Nantel. "While there were times during the early days of the pandemic when many companies had a hard time meeting a sudden increase in demand, we're now able to resolve more than 9 out of 10 issues on the first call, and employee satisfaction with the calls is 91.7% positive."
The workers who spoke with The Markup said they see it differently. 
"The bad thing about them is you can't speak to anyone," Brooks said. "And the numbers they call you from, you can't call them back."
On a cool day in April, the sidewalk was crowded with people in front of a five-story dusty beige building on Los Angeles's Skid Row. A sign above the doorway read "Madison Hotel"—the name of a single-room occupancy hotel, or SRO, where Brooks now stays.
"My room is smaller than the hospital room," Brooks said. "It's like a dorm room, just a sink and a microwave…. Bathrooms are communal."
When Brooks was hospitalized at the beginning of the pandemic, she maxed out her credit cards and borrowed payday loans to survive, she said. No longer able to live with her sister, she slept on a friend's floor for a while. Then Brooks got the call that she qualified for the Madison Hotel.
Over the past several years, other Amazon workers have either been homeless while working for the company or have become homeless after getting sick or injured, according to various news reports. Natalie Monarrez, for example, worked at one of Amazon's Staten Island warehouses and lived in her car in the company's parking lot for nearly two years, according to Vice. The Guardian profiled an Amazon worker in Texas, Vickie Shannon Allen, who said she was injured on the job and, like Brooks, was unable to get sufficient paid leave. The Guardian reported that she too ended up homeless.
"A workplace injury can take a worker, in one second, right out of the middle class and into poverty," said Debbie Berkowitz, former chief of staff and senior policy adviser at OSHA.
Brooks said she ended up getting hospitalized with COVID for a second and then a third time. She created a GoFundMe fundraising campaign for help. She now works as a bus driver for the Los Angeles Metro and said the agency looks out for its workers and provides sick leave when needed. Her credit, however, is still suffering from the loans she took out during her first bout of COVID, she said, which makes it hard for her to find permanent housing.  
"Now I have a good job, but it's not a factor of good money," Brooks said. "It's a factor of good credit."
She said she can't help but think how things could've been different.
"I didn't come here to live on Skid Row."