Citing a recent investigation by The Markup as evidence of a nationwide problem, the U.S. Department of Justice, Consumer Financial Protection Bureau and other agencies announced a new initiative Friday to combat discriminatory mortgage lending practices.
At the press conference, Rohit Chopra, the director of the CFPB, said an all-hands approach is required to combat the "endemic" practice of redlining, the term for denying mortgages in neighborhoods with high populations of Black people and immigrants, once encouraged by the federal government. He said that includes fighting "digital redlining" by algorithms used to decide who gets a mortgage.
"These algorithms are black boxes behind brick walls," Chopra said. "When families and regulators do not know how decisions are made by these algorithms, we are unable to participate in a fair and competitive market free from illegal bias."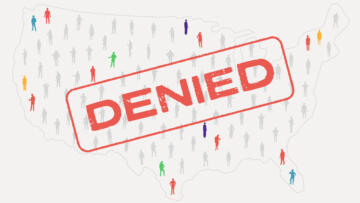 Denied
The Secret Bias Hidden in Mortgage-Approval Algorithms
Even accounting for factors lenders said would explain disparities, people of color are denied mortgages at significantly higher rates than White people
The new multi-agency effort will increase government analyses of lending patterns with an eye toward fair lending, task state attorneys general with enforcing fair lending practices more stringently, and strengthen reporting pipelines between the Department of Justice and "financial regulatory agencies" to identify fair lending violations. The Department of Justice described the Combating Redlining Initiative as its "most aggressive" attempt to curb the practice.
This push comes after The Markup's August investigation, which held constant 17 variables, including factors that the lending industry previously said would explain away lending disparities. We found the disparities continued. Lenders nationwide were more likely to deny people of color than White applicants. They were 80 percent more likely to deny Black applicants than similarly qualified White applicants with similar incomes, debt-to-income, combined loan-to-value ratios, and many other key factors.
Chopra cited that finding in his remarks—and criticized the mortgage industry's response. At the time, the industry argued that The Markup's analysis wasn't complete because it didn't include credit scores, a key component in their decision-making.
"Their defense illuminates the problem," he said. "Black-box underwriting decisions are not necessarily creating a more level playing field and actually may be exacerbating the biases that feed into them."
↩︎ link
The Mortgage Bankers Association did not respond to requests for comment on Friday, and the American Bankers Association declined to comment.
The Home Mortgage Disclosure Act requires financial institutions to report applicants' credit scores, but the CFPB does not make them available in the public version of the dataset, citing consumer privacy. The government agency also withholds the decisions made by algorithms required by Fannie Mae and Freddie Mac, the two quasi-governmental agencies that buy about half of the mortgages made in the country.
As part of the new effort, the Department of Justice announced a proposed settlement with a Mississippi-based lender, Trustmark National Bank. The bank was accused of targeting its financial services to "majority-white neighborhoods" in Memphis, Tenn., between 2014 and 2018, discriminating against Black and Latino prospective borrowers. The bank did not admit fault as part of the settlement, and a court still needs to approve the agreement for it to take effect.
If approved, Trustmark would pay a $5 million civil penalty to the Consumer Financial Protection Bureau and Office of the Comptroller of the Currency, pay $3.85 million to create a fund to subsidize loans for residents of Black and Latino neighborhoods in the metro area, and pay for outreach and financial education efforts around the area.
"We fully cooperated with the agencies and have entered into these settlements to avoid the distraction of protracted litigation," Trustmark CEO Duane Dewey said in a statement, "and because we share the common goals of breaking down barriers to home financing and exploring innovative ways to help residents of underserved areas achieve the dream of homeownership."
As part of our investigation, The Markup also looked at the lending patterns of individual lenders and found seven financial institutions that produced the widest disparities between people of color and their White counterparts in 2019. Among them were three lenders associated with the largest homebuilders in the country, DHI Mortgage, Lennar Mortgage, and Pulte Mortgage. These three companies were more likely to deny Black and Latino applicants than similarly qualified White applicants.
The seven lenders previously told The Markup that they don't deny people based on their race or ethnicity, that they follow the law, and that The Markup's findings did not accurately reflect their lending patterns. Two lenders said that the data used for the analysis can't provide an accurate and complete picture of their lending patterns because of the data's limitations.
"Today, we are committing ourselves to addressing modern-day redlining by making far more robust use of our fair lending authorities," U.S. attorney general Merrick Garland said at Friday's  multi-agency press conference. "We will spare no resource to ensure that federal fair lending laws are vigorously enforced and that financial institutions provide equal opportunity for every American to obtain credit."
Correction
An earlier version of this story described Fannie Mae and Freddie Mac as nonprofit corporations. They are quasi-governmental agencies.