Hi, everyone,
On dark days, in the midst of a mental health emergency, many Americans look to a federal government program for help. 
You might be familiar with it: Since 2005, counselors have been answering calls through the National Suicide Prevention Line, offering help to people in severe emotional distress. Last year, the program relaunched as the 988 Suicide and Crisis Lifeline, allowing callers to connect with the service through the simple three-digit number 988.
It's a vital service. About 50,000 people died by suicide in the United States in 2021, a rate of one death every 11 minutes. More than 12 million others seriously thought about taking their lives that year, according to survey statistics from the Substance Abuse and Mental Health Services Administration. 
48,183
Number of people who died by suicide in the United States in 2021
Source: Centers for Disease Control and Prevention
For ethical reasons related to running control groups with people in crisis, it's difficult to track how many lives have been saved by crisis lines, but the available evidence strongly suggests people feel better able to cope after reaching out through the program. 
The launch of the 988 hotline has so far been successful in making that help more accessible than ever. The service routed more than two million calls, texts, and chats to local and regional crisis centers in its first six months, according to a CNN analysis. Those numbers represented a major year-over-year increase since the launch of the 988 line. (More recently, a survey found that only 13 percent of adults knew about the 988 line, however.)
But while the service has been crucial to many, it's not without controversy. We recently explored one issue here at The Markup, reporting on how dozens of websites for local crisis centers tied to the 988 line were tracking visitors through a tool called the Meta Pixel. We found some websites using the tool were sending visitors' page views, button clicks, and even names and email addresses to Facebook. (A handful of the centers have since stopped or changed their practices, and some said they weren't aware the data was being sent at all.)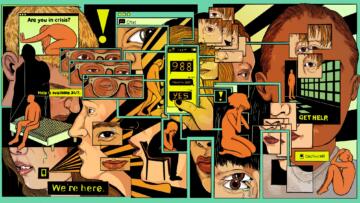 Pixel Hunt
Suicide Hotlines Promise Anonymity. Dozens of Their Websites Send Sensitive Data to Facebook
The Markup found many sites tied to the national mental health crisis hotline transmitted information on visitors through the Meta Pixel
Another debate around tracking has been playing out even more publicly. Last year, the Federal Communications Commission held a hearing on automatically geolocating callers who dial 988. While the details are under discussion, the plan would broadly mean people who answer calls would be able to see exactly where a caller is and to provide that information to emergency services.
The potential benefits are clear. Right now, when a person calls 988, they're routed to a local crisis center based on the area code they're calling from, so a person with an out-of-state area code will be sent to a counselor in a different state. Through geolocation, the service could automatically detect where a person is and route the call to the center nearest to them.
There are also emergency situations where being able to trace a call could save lives. If a person wants help but can't describe precisely where they are, a counselor could still direct help to them.  
Already, according to a U.S. Department of Health & Human Services FAQ on 988, some calls—fewer than 2 percent—trigger contact with 911 when operators believe there's a risk of harm. In those cases emergency services can track the location of a call through 911 technology, although the practice can be cumbersome.
While the FAQ says counselors make an effort to provide help in "the least restrictive setting possible," it doesn't rule out the possibility of a call leading to an outcome like forced hospitalization. The nonprofit group Mad in America has published documents and harrowing anecdotes detailing the stories of callers who had police sent to them without consent after calling for help. 
Some advocates are pushing back against the proposal to track calls, arguing that automatically tracing 988 calls would expand the use of nonconsensual intervention and violate the trust that callers place in the program.
Yana Calou, director of advocacy at the Trans Lifeline, explained that their organization launched a campaign for explicitly anonymous hotlines in response to concerns about call tracking. "We really saw the writing on the wall with the FCC 988 [hearing]," Calou told The Markup recently.
While some say that nonconsensual intervention is a necessary last resort, to advocates like Calou, the moral calculus looks different. They point to research suggesting forced hospitalization may ultimately increase a person's risk for suicide in the long term and argue that the trauma of a forced intervention from police can leave lifelong damage. "We don't have emergency infrastructure in our country that is not harmful," Calou said. 
In response to a request for comment about the concerns, Katie Gorscak, an FCC spokesperson, said last year's hearing was meant "to discuss the pros and cons of geolocation" and the agency "is considering various recommendations for next steps that are in line with our rules." 
But based on the tenor of the experts in that hearing, the agency seems likely to adopt some form of automatic tracking one day in the future. Also under discussion, however, are what safeguards to put in place for callers concerned about forced intervention, meaning the future of 988 geolocation technology is still open for debate.
Thanks for reading.
Colin Lecher
Reporter
The Markup